Create and maintain frequently asked questions for your site.
Enabling the FAQ App
Before adding any FAQs, you must first make sure the app is enabled.
1. Go to the control panel
2. Click to expand Settings
3. Click on Enable Apps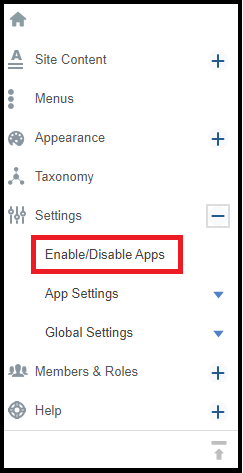 4. Search for FAQ
5. Check the Enable box.
6. Click Save.
To navigate your FAQs better, follow these steps to add a menu item pointing to FAQ listing in primary menu :
Adding a FAQ Menu Link
Go to the control panel and select Menus
Once in the Menu area, Select +Add New Link in the Primary Menu
You'll be prompted to choose an Item Type. Please select URL
Click Continue
Now give the Menu Item a title like "FAQs" and enter the word "faq" (lower case) in the URL field
Click Finish at the bottom of the page
Creating FAQs
Click on ADD NEW > FAQ

Fill out the FAQ entry form.

Save & view results
Content Revisions
The content revisions feature will allow you to save past versions of content (posts) on your website.
Visit our Content Revision page to learn about the details of content revisions
Importing FAQs
 
To import FAQs:
Enable FAQs app.
Click to expand Site Content 
Click to expand Import and select FAQ

You may only upload a file in a CSV format only.  To make sure you are importing a file in the correct CSV file format, click the Download a template example to use as a guide.


NOTE: Make sure to save your CSV file using the 

UTF-8 file format

 to ensure that your contents are imported without issue.


mporting more than 100 FAQs at one time is not permitted. If your CSV file is over 100 rows, you will receive an error.

Submit.
Go to Content in the Control Panel and the first entries will be your newly imported FAQ posts.
Viewing FAQs
All of your FAQ posts can be viewed by clicking on the "FAQ" link in the primary menu of your site. You can also view and manage FAQ posts by navigating to the Control Panel and clicking on the "Content" button. On the right column, under "Type" you will see "FAQ" that once applied will display a list of your posts.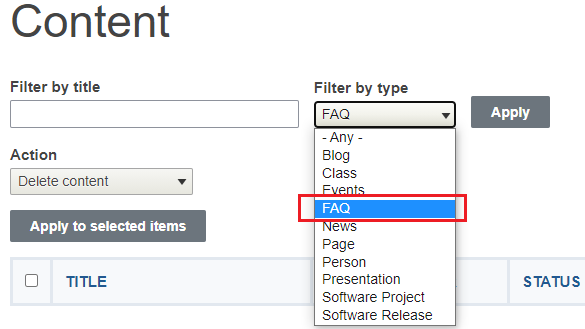 Tips about FAQs
FAQs automatically list themselves on the order they were added to your site
To reorder the FAQs, use the Featured Post widget!
Example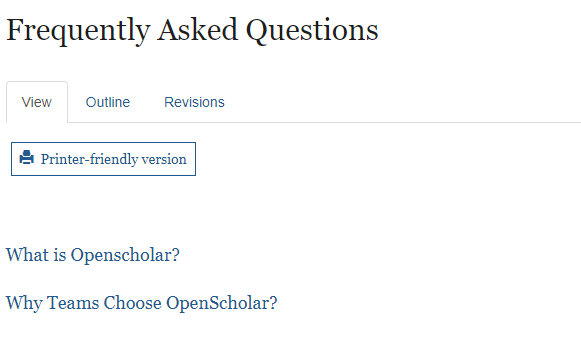 Updated:  17 Sep 2021