The News app will enable you to post and manage news that you would like to publish on your site. Examples of News items might be recent developments in projects that you're affiliated with, awards, course-related updates, a new book or article releases, press mentions, etc. The News app, like other apps, can be set as private or public giving you control over how and to whom content is displayed.
Enabling the News App
Before adding any News items, you must first make sure the app is enabled.

1. Click to expand Settings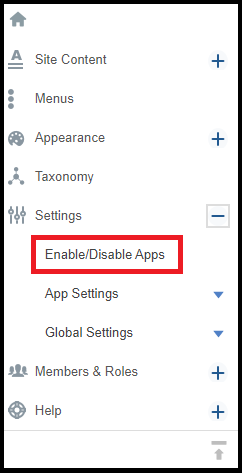 2. Click on Enable/Disable Apps
3. Search for NEWS.
4. Check the box under Enable for NEWS.
 


5. SAVE CONFIGURATION at the bottom of the page.

Return to Home Page
To navigate your news better, follow these steps to add a menu item pointing to news listing in primary menu :
News Menu Link
If the News link does not appear in your menu, follow these steps:
Go to the control panel and select Menus
Once in the Menu area, Select Add New Link in the Primary Menu
You'll be prompted to choose an Item Type. Please select URL
Click Continue
Now give the Menu Item a title like "News" and enter the word "news" (lower case) in the URL field
Click Finish at the bottom of the page
Adding News Items
The News link should now appear in the primary menu. Click on it to begin adding items. While in the News page, click on the "Add New" button, which will present you with two options.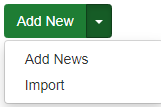 Select the Add News button and enter in the new's title, date, description and hit save.  You have now created a News item.
Tip: Choose a Thumbnail Image
When you add a photo to a News item, an automatically formatted thumbnail will display when the post is listed anywhere on your site. This both looks attractive, and will help visitors to locate memorable news.
Importing News Items
Content Revisions
The content revisions feature will allow you to save past versions of content (posts) on your website.
Visit our Content Revision page to learn about the details of content revisions and watch the video presentation
Viewing News Items  
All of your news items can be viewed by clicking on "News" in the primary menu of your site. You can also view and manage news items by navigating to the Control Panel and clicking on the "Content" button . On the right column under "Type" you will see a drop down menu where you can click on "News" which will display a list of your news items.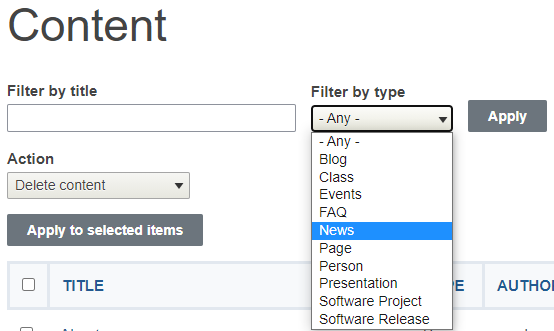 Updated:  17 Sep 2021