The List of Posts widget displays an automatically generated list of posts from your site.
Add a New List of Posts Widget
Click Layout on the page in which new widget is placed


Click  "Add new widget" button


Add the Widget Title and Description
Widget Description is the administrative title (seen by site administrators only)
Widget Title is the what displays on the site


Choose the Content Type, Display Style, Sorting and Display Format
In the example below, we've opted to show Blog App content, to display a teaser (title and the first few sentences of the post), the sort order as well as Display Format.  posts are displayed in 3 columns format if Grid is selected. You can make changes to any of these display styles.


Set the "More" link or Pager and Number of items to display
The more link will appear at the bottom of the widget. In this case, it defaults to show all blogs, but you can set the URL to any specific page. A pager will allow visitors to click an arrow to the next set of blog items. In this case, 3 blog items are shown per screen.


Choose Vocabulary Terms to Filter by:
You can select vocabulary terms to filter by. For example, you include only blog tagged with blue or green AND vocab-blog-aaa or vocab-blog-bbb. Terms within a vocabulary are used as "or" operator.  Terms in different vocabularies are used as "and" operator.


Choose Which Sites to Display Content From
You have the ability to include posts from subsites. In this case "testpage8" is the parent site and is checked by default. Checking the box for the subsites will include posts from those sites. Note: taxonomy term filtering is not currently available for subsite content.


Choose to "Make Embeddable" and Save
Clicking "Make Embeddable" will allow other site administrator to get a code snippet to embed this widget content on other sites.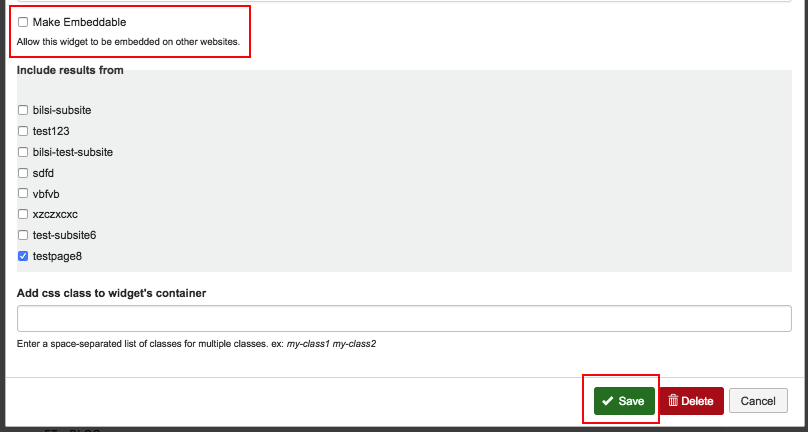 After you click Save, be sure to drag the List of Posts widget into your layout.
List of Posts Widget Example
This "List of Posts" widget shown below is displaying blogs tagged with the taxonomy term "blue" or "green" AND "vocab-blog-aaa" or "vocab-blog-bbb"

Learn more about Customizing Your Site Layout.
Updated: 3 Nov 2020